POW Research
Although I have been investigating the archaeological resources at Johnson's Island for many years, I have been very interested in the personal accounts that the prisoners have left behind about their experiences while a prisoner there.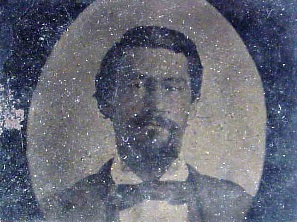 It has been very helpful in interpreting the archaeological resources to learn how the prisoners responded to the challenges of being incarcerated at a prison facility so far north. These personal accounts come in the form of letters, diaries, and reminisces published after the war. Since I have created this internet site, I have received many requests for information about prisoners that were at Johnson's Island. I have<![if !vml]>

<![endif]> attempted to collect many sources of information about POWs at Johnson's Island both to enhance my own research and to help others find out about their relatives. Therefore, I am very happy to try and help discover information about a POW that you may be interested in, with the hope that you will be able to share with me information that you have concerning their stay at Johnson's Island.
We have recently been loaned the diary of Captain John Thomas Howe, Co. E, 4th Virginia Volunteers. Follow our transcription and interpretation of this recent contribution to our historical record of this site. This should help to illustrate just how important these documents are to all of our understanding of this most important part of US history.
One of the resources that I use to find out about POWs at Johnson's Island are the various official lists that were created at Johnson's Island during its use as a prison. These lists are maintained at the National Archives, and I have gotten copies on microfilm that I use (with students help) to look up prisoners. Click here to see some of the lists I use.

If you are interested in finding out what I may have on your relative, all you need to do is contact me and I will see what information that exists on them. I get many requests, thus it can take some time till I can actually get the information to you. However, I keep your requests on file and as I go through other prisoner records (letters and diaries) I often find additional information about those that you are requesting information about. As I receive your information (even if its just the family's oral history), it can often provide data on others that someone else may be very excited to learn.
Email johnsons-island@heidelberg.edu to request prisoner information.
In your request, try to let me know as much as you can about your relative's name, rank, unit, and when you believe he was captured. I would also like to know how you are related to the POW. Additionally, if you provide me your regular mail address, I can send you the Prisoner Research Record when it is prepared.
As time permits, I hope to include some of the family histories that I have encountered through the kindness of those that have shared their ancestor's story.