Field Research
Results from the 2005 season, along with plans for 2006
Archives
Data and photos from previous digs, including images of some of the thousands of artifacts collected at the site
POW Research
Resources and information for those conducting genealogical and other research into the officers incarcerated in the prison
Field Research
2005 Field Research
For the past five years, we have been excavating portions of Block 4, one of thirteen Blocks that the prisoners were housed in.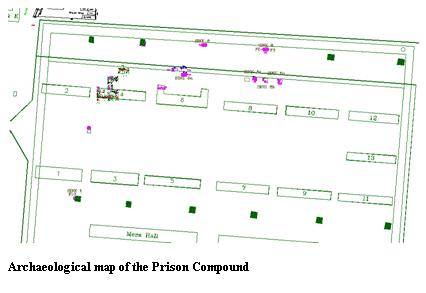 Block 6 was the prison hospital, and Block 1 was used for housing prisoners that had taken the Oath of Allegiance. Block 4 was one of the other blocks that held prisoners throughout the war. Of special interest in Block 4 were several occupants that were well known in their craft activities. We have the diary of Robert Smith and letters from Francis Marion Jackson, roommates within Block 4. This year, we will be continuing our excavations along the 1862-64 wall which was the site of several latrines from the early part of the war.
We are also hoping to recover additional evidence of the POW's activities within the block (see POW Research). We want to compare our findings from Block 2 to those of Block 4, to determine if the common blocks (2-5 and 7-13) will produce similar types of material culture. As we proceed with these investigations, we will try to update our internet site on our findings.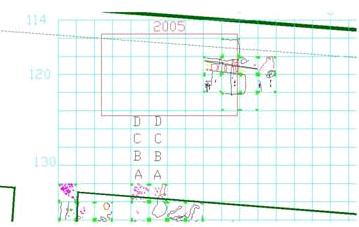 Of interest in our latest summerís work is the large quantity of hard rubber items recovered. These items show the craft activity that is written about throughout the use of the prison by the prisoners. Hard rubber was carved into finger rings, trinkets, broaches, pins, and a variety of other items. Recovered items include both the finished product as well as waste and broken pieces. Careful examination of these materials will provide a clearer picture of just what tools and skills were necessary for the production of some very beautiful items.
School groups that are participating in this investigation are encouraged to orient themselves to this map and after their participation, locate where they worked at the site. By the close of our studies this year, we should have most of the area noted within the red rectangle excavated and the various classes that participated will be able to understand their role in the accomplishment of this research.
2006-2007 Field Research
Investigations have been undertaken within the Prison Compound at various locations, including the Prison Hospital. Previously, some of the latrines associated with the hospital have been explored. Last year (2006), we began our investigation of the actual location of Block 6, the Prison Hospital. This coming Summer (2007) we will be continuing our investigation of this block. We are anxious to understand what the daily experiences were for those that found themselves confined to the hospital. Only the very sick were usually placed into the hospital. The hospital block has specific areas designated for cooking, treatment, storage of the deceased; and we hope through our investigations we may be able to discern some of these.