Captain John Thomas Howe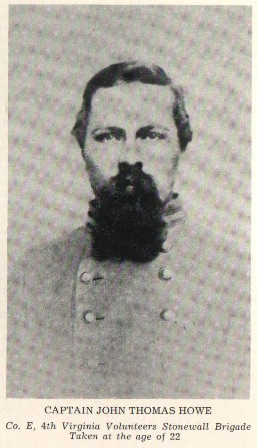 The book was loaned to the Friends and Descendants of Johnson's Island Civil War Prison by Captain Howe's Great Grandson. We will be posting images from this book as well as transcriptions with discussion of the significance of his entries. We hope you enjoy this personal trip through the past.
3/20/2006-We received the book today. It arrived without problems. The book contains writings as well as autographs. It will be interesting to figure out all that is contained in this book. Here is a picture of the cover.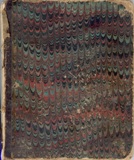 11/16/06-This is the first entry of the transcription of this book. It doesn't usually take this long, we have just been busy with many things. This transcription was done over the summer by one of the summer field school students. However, below is a transcription of the first four pages of this book, entitled "Southern Cross"
First, here are the pages if you care to look at them.
Southern Cross
To arms! Ye noble patriot brave,
In farm array your bands,
March on! March on! Polluted blood,
Shall drench our native land,
Ye children of a country loved,
She calls you to the strife.
Tyrants and slaves, with Gothic war,
Assail your nations life,
Chorus
Unfurl our banner! The Sothern [Southern] Cross!
Shout loud the battle cry,
Of freeman's clear and loud huzza,
For death or victory
II
We fight in Keoly Freeman's cause,
For homes and after fires;
For sacred fanes and equal laws,
The gift of honored sires,
For freedoms birthright won for us,
Sealed with the blood of war,
[Top of next page]
By men resolved on battle field,
To win or perish there,
III
Our ranks are formed we hear the word,
"Charge! Charge! The hated foe!"
As mountain torrents sweep the vale,
Our columns onward go,
What! What is life or death to us?
We only feel and see,
That freedom must be struggled for,
By those who would be free,
IV
Our loud huzza's exulting swell,
Our banners proudly sweep,
And those who live are heroes now,
And martyrs those who sleep,
The bayonets flash along the lines,
While thousands bleed or die,
The boasting foe now wavers, breaks!
And flies! huzza for victory!
Chorus
[Top of next page]
V
We hear the wail of woman now;
In agony it comes;
With mingled tears and anguish cries,
From distant States and homes:
And those who in the deadly strife,
A fame or memory seek
Now feel the hot tear of manhood,
Steal glistening down the check,
VI
They weep not for a comrade fallen,
A father – brother dear!
But the memories of childhood home,
Looms with a burning tear,
And they who in the conflict showed,
Undaunted heart and brow,
At thought of home, that touches them,
Can weep like children now.
Chorus
[Top of the next page]
The brave proud heart is noblest
When touches VII with womans pain
The brave, proud heart is noblest
When touched with woman's pains
The eye is saddest, coldest,
That never weeps again;
The tear that falls for woman's grief;
Is hallowed by her sorrows,
As dew that falls upon the leaf,
A purer luster borrows,
A purer luster borrows,
Chorus,
Then rally round the Southern cross,
Suppress all tears of sorrow,
Sad thoughts away! For those at home,
We may fight again to-morrow,
Sad thoughts away for those at home
Johnson's Island
April 7th 1864
Johnsons Island th 1864
Johnsons Island [This line has been erased]
April 7th 1864