Volunteer
How to donate your time to help keep Johnson's Island's past alive
Donations
Information about how to donate to FDJI
Laboratory<![if !vml]>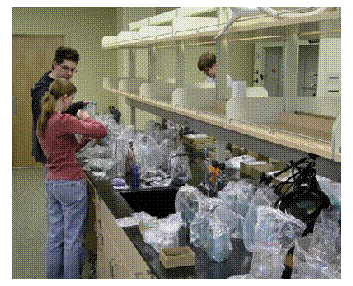 <![endif]>
The Archaeological Laboratories associated with the Center for Historic and Military Archaeology of Heidelberg College are used in the preparation, conservation, and curation of all cultural materials recovered from the Johnson's Island Prisoner of War Depot site. All materials collected since 1989 are maintained at these laboratories.
Laboratory Work of the Johnsonís Island Cultural Materials
The laboratory work is just about year-round in terms of managing the collections of materials that are recovered from the site. Each year, as new specimens come to the laboratory, they are evaluated for conservation needs, then sorted into various raw material types. Typically, the glass, ceramics, bone, and chert materials are washed. Metal, brick, shell, and other very fragile items are dry brushed (if they can handle this) and evaluated for further conservation.
If you are interested in volunteering working with the cultural materials, there are all types of jobs required from initial cleaning, counting, cataloguing, photographing, measuring, investigating, and so much more. We would more than welcome your help. The laboratory is open most days during regular hours, and usually one evening per week. Contact us for further information.
Contact:
Dr. David Bush
Center for Historic and Military Archaeology
Heidelberg College
Tiffin, OH 44883
(419) 448-2327 (office)
(419) 448-2236 (facsimile)
dbush@mail.heidelberg.edu