A Threatened Site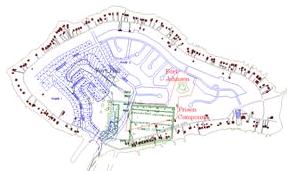 The site of the former prison compound, Union guard, and fortifications has been severely impacted by:
quarrying of limestone at the turn of the 20th century

housing developments that have occurred on the island since the 1950's.
Almost all of the archaeological remains from the Union guard and the bay side of the Prison Compound have been destroyed. More recently, the remains of Fort Hill have been leveled for new housing.
Donít let us lose the opportunity to introduce the world of archaeology and history to students of all ages.
The Fort Johnson Lunette and the major portion of the Blocks within the Prison Compound still contain the archaeological record of thousands of prisonersí experiences on the island.
Our goal is to insure that these remains (noted in red on the above map) will always be available for generations to help understand, interpret and experience the Civil War period in American history.