Field School-
At this time, there will be no field school at Johnson's Island Civil War Prison site.
We thank all those that have participated over the years!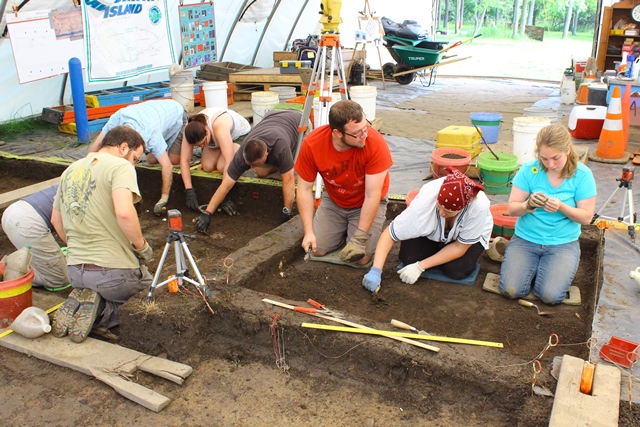 2015 Field School Excavating at Block 6-Prison Hospital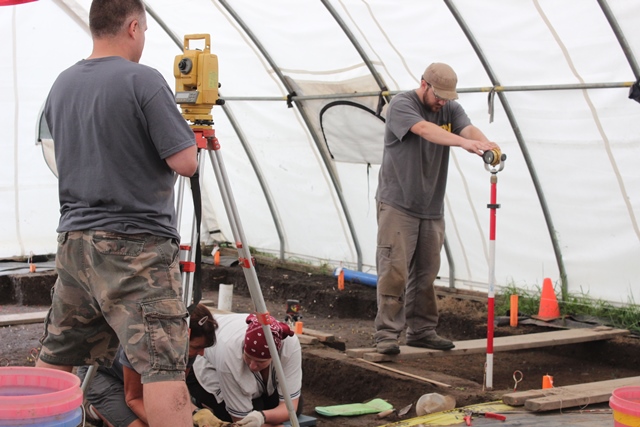 Students using their training in the Total Station to Map Features in Block 6-2016 Field School.
The Center for Historic and Military Archaeology at Heidelberg University is sponsoring a summer field school at the historic Johnson's Island Civil War Prison site. The program will run from Monday June 1st to Friday July3rd, 2015. Students will receive 6 semester hours of credit in ANT 250/251 (Archaeological Field Methods/Experience).
Brief overview of Johnson's Island Civil War Prison:
From April 1862 until the end of the war, Johnson's Island Civil War Military Prison functioned as the main Union depot for Confederate Officers. Designed to hold approximately 2500 prisoners of war, Johnson's Island eventually held up to 3200 at any one time. The overcrowding resulted in the construction of new mess halls and to an expansion of the prison compound. Expansion of the prison facilities provides archaeologists with an opportunity to study changes in the physical structure of the prison as well as in the lifestyles of it's occupants. In comparison to the thirty-one Union prisons, Johnson's Island is unique in its purpose (housing Confederate Officers), in its military garrison (recruited specifically for guard duties) and in its condition (as an archaeological site). (For more on the history of Johnson's Island, click here.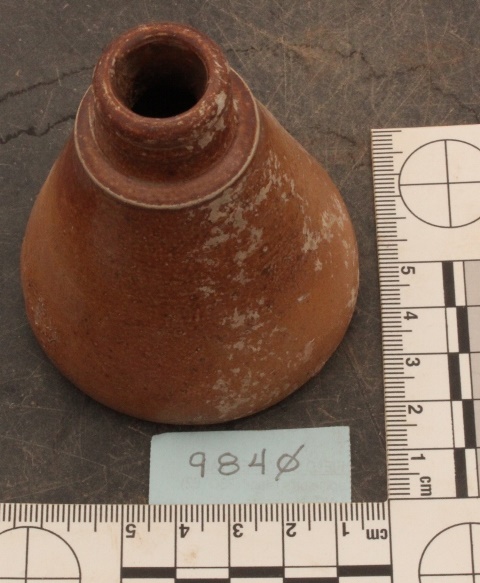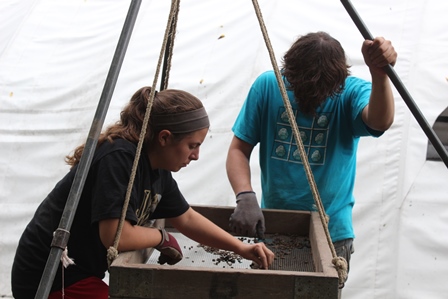 2016 Field School:

Since the spring of 1989, Dr. Bush has been investigating the Johnson's Island Civil War Prison. This site, located on a small island in Sandusky Bay, Lake Erie (just north of Cedar Point) held over 10,000 Confederate officers captured at hundreds of battles during the Civil War. One of the unique aspects of this Union prison is it only held Confederate officers. Past research has allowed us to specifically locate many of the special use areas of the prison. We have conducted investigations at Blocks 2, 4, and 8-general housing blocks and Block 6, the prison hospital. In the mid-1990s, preliminary investigations were conducted at Block 8. In 2010 we again explored both a latrine and the building location of Block 8. In the past few years, we have excavated half of the location of Block 8 as well as completing the excavation of Feature 124, the later 1862 latrine. In 1994 we opened up Feature 14, an 1863 latrine from Block 8. Our intent is to expose the remainder of Feature 14 (the latrine) and continue its excavation. This latrine was used in the latter part of 1863 by the occupants of Block 8.

We spent several years at Blocks 4 and 6, developing a very comprehensive collection of cultural materials from these blocks. This year we are hoping to complete the entire Block 6, hospital, excavation. In 2015 we excavated the northwest extension of Block 6, which we believe was the prison hospitalís mess area. The area produced many items related to food preparation as well as medical containers. The excavations this year should give us a look at the northern end of the building and complete our work at the hospital.

Finally, the research will continue in the laboratory with the field school conducting preliminary analyses of materials excavated. There will be two nights of laboratory work each week. Additionally, we will have Mike Woshner visit at the field school and provide an insightful presentation of the use of hard rubber during the US Civil War.

We have had the pleasure of using our work at Johnson's Island as part of the Archaeology's Interactive Dig web site. You can view years of our work at their web site. http://interactive.archaeology.org/johnsonsisland/

We are offering a five week field school (six credit hours) for graduate students, undergraduate college students, graduating high school seniors, incoming first year college students, and non-traditional adult students for academic credit, and for degree holding students who wish to gain field experience or expand their knowledge. This is an excellent opportunity to gain archaeological experience as well as learn about the U.S. Civil War and the prison system. In addition to the field experience, there will be laboratory sessions in the archaeological laboratory on the Heidelberg University campus.

Participants in the field school will gain experience in basic excavation techniques, on-site photography, the recording of archaeological data, and the identification and conservation of historic cultural materials. Students will work at the site Monday through Friday (8:30-3:30) for five weeks. Johnsonís Island is connected to the mainland through a causeway built from Marblehead to the island in 1972. Housing is available through the university with transportation provided to the site.

Participation Requirements:

No previous experience is required. The program is designed for undergraduate college students, graduating high school seniors, or adults interesting in gaining intensive field experience. All enrollments must be for the full 6 hours and for the full five weeks. Enrollment in the program is limited to 12 and admission to the course is based on the order in which applications are received. Two texts are required for the course.

Staff
Dr. David R. Bush
Professor of Anthropology
Site Director and Principal Investigator for the Johnson's Island site

Season dates: June8th through July 6th, 2016
Application Deadline- June 1, 2016
Registration
Students should enroll in Ant 250 and Ant 251 for a total of 6 semester credit hours.

Tuition
$2,970-6 credit hours (If you audit the course, the tuition is $1485.00)

$85.00 Lab Fee per course=$170.00
Housing at the college costs $95.00 per week ($450.00 for the five weeks). Food is not included.

For Further information contact Krista Kanter at kkantner@heidelberg.edu or:
Dr. David Bush, dbush@heidelberg.edu
Director, Heidelberg University
Tiffin, OH 44883
(419) 448-2288 (office)

dbush@heidelberg.edu

<![if pub11]>